Venture Leaders Biotech 2022: 10 innovative startups will advance their global growth in Boston
Zurich/Lausanne/St. Gallen, July 26, 2022 – The Swiss National Startup Team welcomes new members: A jury selected 10 startups for the Venture Leaders program dedicated to the biotech sector. During their roadshow, the Venture Leaders Biotech will meet international investors and industry leaders and access industry-specific expertise and networks to grow their companies.
The Venture Leaders– the members of the Swiss National Startup Team– have a clear-cut goal. They envision themselves as global players and want to take the first step toward their international expansion. The investor and business development roadshows for Swiss startups are specifically structured to help them achieve this goal. For the past 17 years, the Swiss National Startup Team has traveled to Boston to discover the entrepreneurial scene of the United States of America. In 2014, the Venture Leaders roadshow extended to China and New York and then added Silicon Valley in 2017 and Barcelona in 2019.
Venture Leaders alumni comprise high-flying biotech startups such as Covagen (acquired by Johnson & Johnson), Redbiotec (Redvax acquired by Pfizer), KB Medical (acquired by Globus Medical), SimplicityBio (acquired by Precision for Medicine), and AMAL Therapeutics (acquired by Boehringer Ingelheim). The startup NBE-Therapeutics participated in the Venture Leaders program in 2003 and was acquired for EUR 1.18 billion by Boehringer Ingelheim in 2020.
The biotech sector now introduces its own distinct Swiss National Startup Team: A jury of professional investors and biotech experts reviewed almost 60 applications to choose the 10 Venture Leaders Biotech 2022. The 10 selected startups improve diagnostic and treatment methods through solutions using artificial intelligence, cell therapies, and molecular measuring, among other innovations.
"The Venture Leaders roadshow for biotech startups will highlight the remarkable Swiss innovations taking place in this sector. Our goal is to nurture connections and investment opportunities for these startups so that their ideas and projects can realize their maximum potential," said Jordi Montserrat, managing partner at Venturelab. "The Venture Leaders Biotech startups 2022 are highly impressive, and I am sure they will leave Boston with additional resources to support their important work."
This year's Venture Leaders Biotech will introduce themselves and their startups at a virtual pitch session on August 18th, 2022. This event will be open to the public and will provide a showcase for the 10 game-changing innovations that the 2022 Swiss National Startup Team will be presenting in Boston. Register to attend the event.
The Venture Leaders Biotech program is co-organized by Venturelab and Swissnex Boston and supported by Debiopharm, EPFL Lausanne, ETH Zurich, EY – Ernst & Young, Hansjörg Wyss, Swiss Biotech Association, VISCHER, Hansjörg Wyss, and Venture Leaders alum Ulf Grawunder.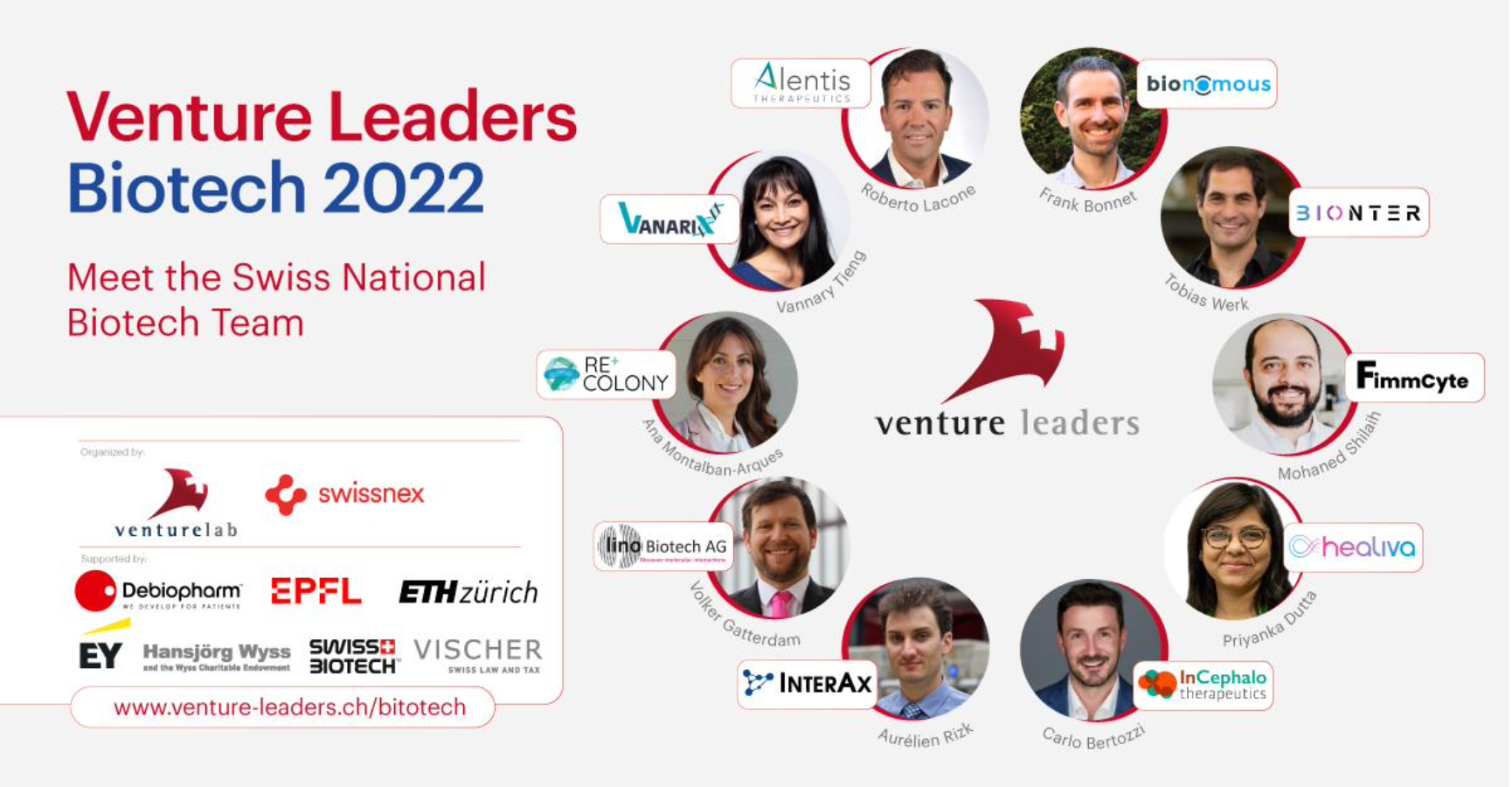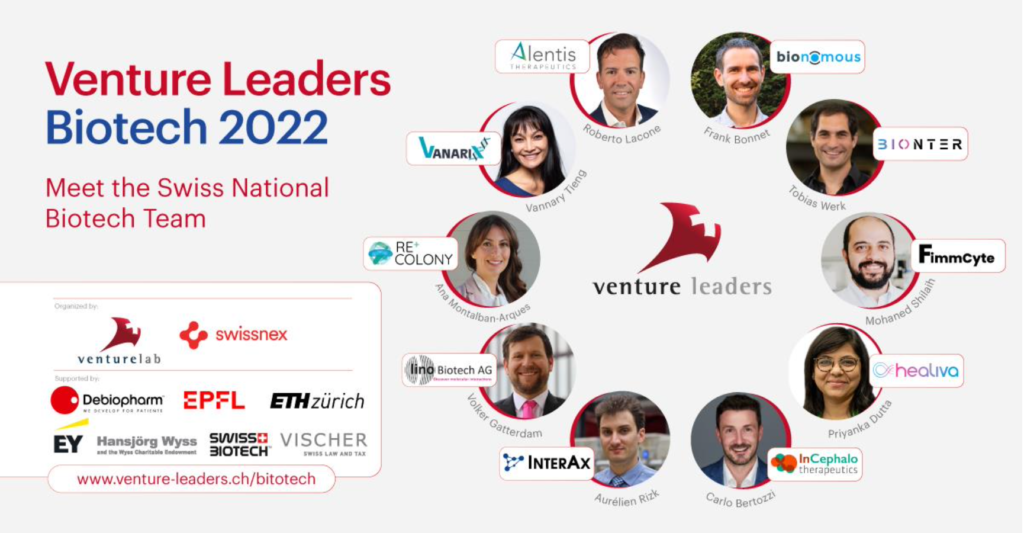 Meet the Venture Leaders Biotech 2022
Alentis Therapeutics | Basel | www.venturelab.swiss/Alentis
Alentis is using its portfolio of unique monoclonal antibodies to develop a pipeline of novel mechanisms targeting advanced fibrosis and cancer.
Bionter AG | Basel | www.venturelab.swiss/Bionter
Bionter revolutionizes analytical testing in the biotech sector by innovating and tailoring technology to the true needs of the pharmaceutical industry.
Bionomous | Lausanne | www.venturelab.swiss/Bionomous
Bionomous provides solutions based on microfluidics and artificial intelligence to automate the screening and sorting of miniature biological entities used in research and industry.
FimmCyte AG | Basel | www.venturelab.swiss/FimmCyte
FimmCyte is developing the first disease-modifying treatment for endometriosis, a disease that affects 10% of women.
Healiva SA | Lugano | www.venturelab.swiss/Healiva
Healiva is a patient-centric biotech company delivering personalized therapy to improve the quality of life of chronic wound patients by combining enzyme technology, cell therapies, and medical devices.
InCephalo | Basel | www.venturelab.swiss/InCephalo
InCephalo develops antibodies and other biological treatments for the local treatment of brain cancer.
InterAx Biotech | Brugg | www.venturelab.swiss/InterAx
InterAx Biotech combines experimental methods, math modeling, and artificial intelligence to generate novel drugs with higher therapeutic efficacy and safety.
lino Biotech| Zurich | www.venturelab.swiss/Lino
lino Biotech provides a totally new method for measuring molecular interactions in living cells or crude biological samples. Their products make cell therapies more cost-effective and accessible for a broader patient population.
Recolony | Zurich | www.venturelab.swiss/recolony
Recolony focuses on the development of a novel treatment for colorectal cancer that can be applied as a non-invasive therapy with minimal side effects.
Vanarix | Lausanne | www.venturelab.swiss/vanarix
Vanarix has developed a new generation of allogeneic cell therapy that resembles native tissue.