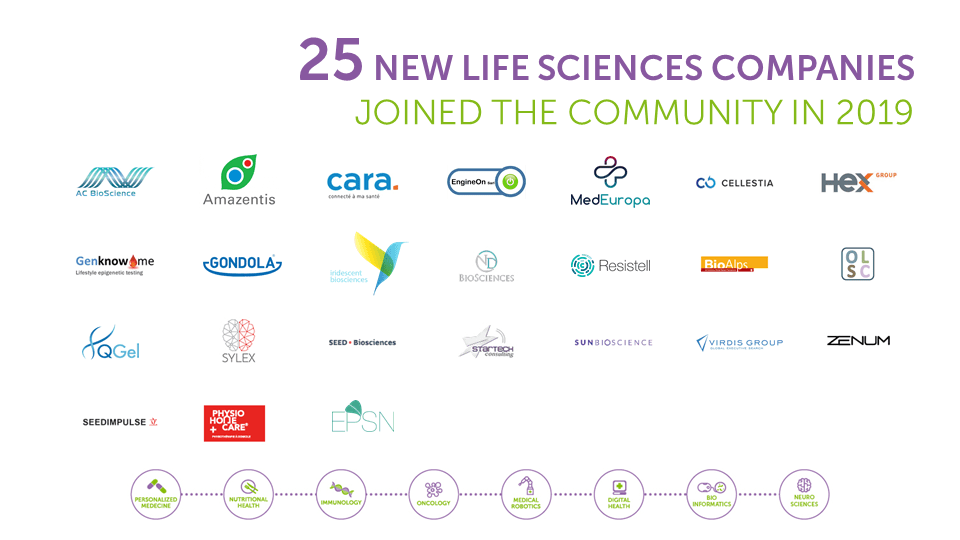 News by biopôle
16.01.2020

25 new life sciences companies joined Biopôle community in 2019
AC BioScience is a start-up biotech company dedicated to the development of new therapies to fight a range of cancers. They focus primarily on personalized therapies for tumoral pathologies.

Amazentis is an innovative life science company dedicated to employing breakthrough research and clinical science to bring advanced therapeutic nutrition products to life. The focus is the development of innovative products designed to meet the health needs of an aging population.

BioAlps offers a dynamic network and an innovative and supportive environment with immediate access to the world of life sciences. The Association's aim is to promote the excellence and performance of the industry in the region.

CARA is an inter-cantonal association whose mission is to develop e-health in Western Switzerland. CARA coordinates the implementation of the electronic patient record (EPR). For this purpose, it provides all healthcare providers in the territory of the member cantons, as well as the resident population, with a highly secure platform for the exchange of medical information.

Cellestia is a clinical stage biopharma company active in the field of precision oncology developing innovative targeted therapies. Its drug discovery platform is built on a unique mode of action of targeting protein-protein interactions (PPI) with small molecules.

Consulting services in life sciences, searching for new innovations and new technologies for corporate clients.

Genknowme SA is an innovative life science company dedicated to transform breakthrough research and clinical science into actionable lifestyle epigenetics tests. They develop a simple at-home blood test that identifies key epigenetic markers to help adults track, maintain, and improve their wellbeing and potential longevity.

Gondola Medical Technologies SA is a Swiss Company specializing in restorative therapies for neurologic diseases. It has developed the GONDOLA® medical device, a proprietary device to give the AMPS treatment (Automated Mechanical Peripheral Stimulation) for motor rehabilitation of people living with Parkinson's disease.

HeX – Hygiene & Expertise SPRL focus on the areas connected to managing contamination and environmental quality.

Iridescent biosciences developed a multiplex signal amplification nanotechnology for the detection of key biomolecules. Its technology, Multimodal Universal Signal Enhancement (MUSE), facilitates the multiplex detection of transcripts and proteins.

www.linkedin.com/company/iridescent-biosciences/about/

MedEuropa is building up a pan-European organization committed to providing best in class cancer care by bringing together experienced medical professionals from complementary horizons and by using state-of-the art technology. Radiotherapy is core (albeit not exclusive) to their operations, its medical benefits, constant clinical and technology developments as well as the cost efficiency aspects of the therapy.

ND BioSciences is a biotechnology company that was founded with the mission of developing and providing innovative technologies, solutions, tools, assays, and services to accelerate the development of early diagnostics and therapies for neurodegenerative diseases.

Since 2014, Dr Luc Otten is founder and manager officer of Otten Life Sciences Consulting, a Lausanne-based consulting company which provides services for financial due diligence and executive assignment in Life Sciences.

Onward Therapeutics

The company focuses on the research and development of pharmaceuticals products for oncology.

Physio Home Care® developed the concept of large-scale home-based rehabilitation, coordinated with healthcare networks. This has enhanced patient follow-up and bypassed the issue of limited capacity in rehabilitation centers.

QGel technology revolutionizes biomedical science with its ability to create customized synthetic extra cellular matrix (ECM) analogues in the form of a gel, which allows for the biologically accurate 3D growth of any human tissue, diseased or healthy, outside of the human body. As such, QGel has the ability to perform large throughput drug screening with complex 3D cellular assays using patient derived tissues, thereby allowing drug discovery campaigns to test thousands of drug candidates.

Resistell's rapid antibiotic susceptibility test saves lives by finding the right antibiotic on time and reduces spreading of antibiotic resistance.

Swiss award-winning startup that provides innovative solutions for single cell assays. They provide a solution for single cell dispensing that is gentle with the cells, intuitive and affordable as well as compliant with the most stringent regulatory standards.

SeedIMPULSE is an imaging company that develops new pre-operative planning software focusing on the musculo-skeletal system using 3D image modalities like low-dose Computed Tomography (CT) and Magnetic Resonance Imaging (MRI). The aim of this solution is to push ahead computational techniques to decrease the number of clicks necessary to work faster with 3D medical images in the constraints of clinical routine. We transform the 3D image complexity into a limited set of recomputed 2D views and annotations to speedup treatment decision pipelines and hence increase productivity and quality of care.

Startech by EasyDiak will favorize the diagnostic to be closer to the patient and manage to become a hosting platform to every digital connecting health diagnostics and associated therapy.

SUN bioscience develops biomaterials for 3D stem cell in vitro culture to allow drug discovery on directly on organoids and avoid the use of animal models.

Sylex is a software development and data processing company specialized in development, implementation and operating of eHealth platform solutions, mainly for nationwide implementation. Sylex eHealth platform provides an infrastructure, which connects vast number of stakeholders into a collaborative network, thus acting as a delivery mechanism for policy-makers to implement healthcare policies downstream through healthcare providers and payers․

The Virdis Group provides high quality, international executive search services to life-science companies of every size; and for roles from R&D, regulatory and manufacturing to market access and commercialization.

ZENUM, with its Swiss roots, whose mission is to spearhead the development of biometric interaction that facilitates the convenience and integrity of the individual. Enabling the highest level of biometric security – quite simply, by leveraging decades of human identification processes, they aim at securing the new disruptive class of human identification processes.
back