03.03
2020
Innovation Programmes @ Biopôle
StartLab
At StartLab, we believe that the role of an incubator is to enable start-up entrepreneurs to take the bold step of moving out of their comfort zone, while providing an environment designed to maximize their chances of success. It is about bridging the innovation gap, from ideation to market acceptance.
We have therefore developed what we believe is the optimum offer for a life sciences incubator: bespoke infrastructure dedicated to life sciences, with shared laboratories, equipment and offices; an accessible network of life sciences and business experts from whom our entrepreneurs can learn and gain new skills and knowledge; and all this within the dynamic Biopôle ecosystem, in which our companies can thrive.
Furthermore, our START programme – a competitive scheme overseen by the unique blend of professionals on our StartLab Advisory Board – offers tailored coaching and financial advantages to our most promising entrepreneurs.
Visit website
Digital Health Hub (DH2)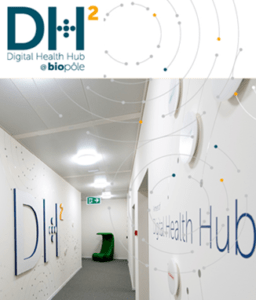 The Digital Health Hub (DH
2
) vision is to be a collaborative initiative, bringing together professionals, researchers and companies from the Swiss digital health community and beyond in one place to develop innovative solutions for, and with, patients. Whether you are a start-up or a multinational, a private company, a joint project or still just nursing the seeds of an idea, we have the right solution for you.
The digital health sector is rapidly evolving, with a growing list of products, services and solutions including e-health, connected health, e-solutions, apps, mobile solutions and more. But how easy is it for patients to understand and access these innovations? The role of the DH
2
Digital Pulse is to bring together industrial and clinical experts, as well as leading players from the fields of public and digital health, to identify and support the best start-up projects and raise awareness on digital health alternatives.
Our vision is to transform healthcare and change patients' lives through relevant and revolutionary digital health solutions. To this end, the Vanguard Programme is offered by Biopôle SA and its partners for a period of 12 months to support highly promising digital health projects, boosting their innovation and business power!
Companies and projects applying to become DH
2
members also have the opportunity to be accepted on to our exclusive Vanguard Programme.
Visit website
Certificate of Advanced Studies (CAS)

Local and regional life sciences firms (pharma, biotech, medtech, diagnostics, nutrition, digital health, etc.) are extremely efficient and precise when developing new products. However, developing a new product and then launching it on the market are two different undertakings. Scientists and researchers, as well as clinicians, often neglect and under-prioritise marketing and sales skills during their studies: skills that are critical to a successful life sciences product launch.
The CAS in Life Sciences Product Management, supported by two faculties (Business and Economics (HEC) and Biology and Medicine, University of Lausanne), was conceived to meet this challenge and train scientists, researchers, clinicians or healthcare professionals for launching products on the life sciences market.
The goal of this new programme is to reduce the distance between the worlds of science and business, enabling the delivery of research innovations to the market. The main objectives of the CAS are: mastering the marketing and sales processes of a product launch in life sciences; appreciating the basis of strategic marketing thinking; and understanding the specificities of marketing and sales strategies in the life sciences sector.
The CAS in Life Sciences Product Management features 144 hours of training, including interactive face-to-face training, with a good balance of theory and practical cases and a complete eLearning module. During the COVID-19 outbreak, lectures will be given online.
Visit website