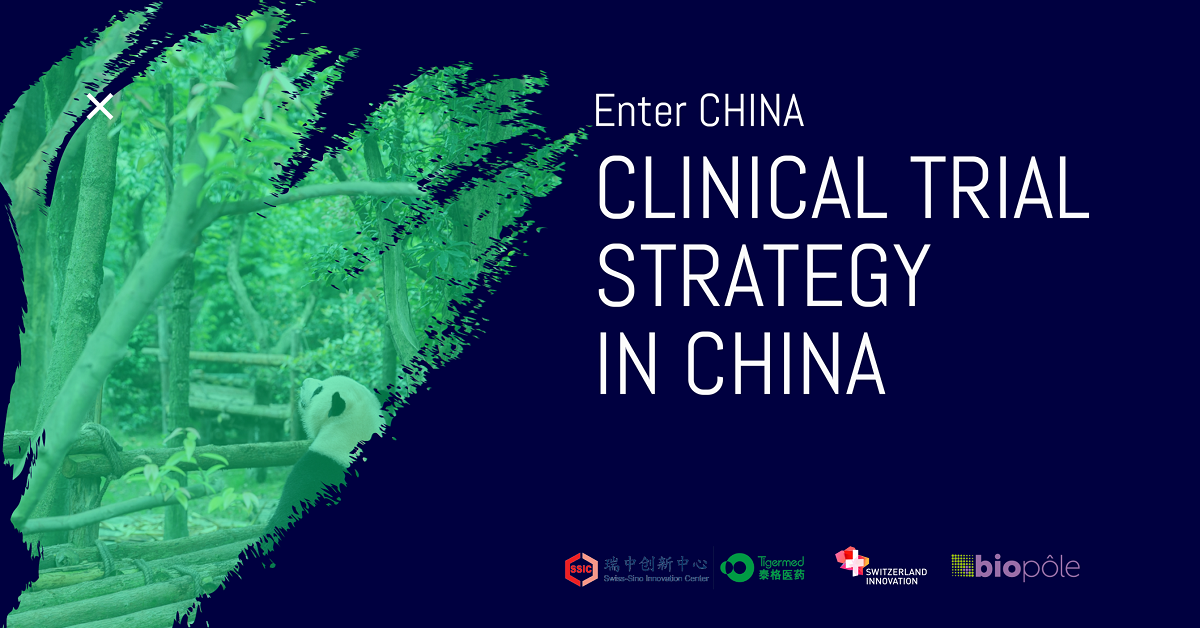 Biopôle events
14.11.2019 14:00

Enter China? Clinical Trial Strategy in China

As you may have experienced the differences in business culture between Switzerland and China, we are continually making efforts to bridge the gap. Based on the many feedbacks we received, we decided to launch a series of workshops to offer you a quick dive into China, to  help you to figure out whether to enter China; if yes, how.

The first event begins with pharmaceutical field and focuses on "Clinical Trial Strategy in China". We are honored to have two speakers from a leading CRO in China, Tigermed Consulting Co., Ltd (Headquarters in Hangzhou, with a branch in Switzerland, Tigermed AG). During this workshop, the two experts will share the experience in organizing clinical trials and market authorization with a drug product or a Medical Device focusing specifically on the Chinese market. You  will learn about the best practices, relevant changes in Chinese legislation, and how to set yourself up for successful clinical trials and the preparation of pharmaceutical and medical device dossiers for submission.

Therefore if you are interested in the Chinese market, if you are wondering how difficult it would be, please don't hesitate to reserve the time in your calendar! We are looking forward to meet you in Lausanne! By then, we will also introduce you more benefits offered by SSIC.
AGENDA
14:00-14:20        Welcome speech by Biopôle and SSIC
14:20 -14:50       Market Introductions to China, a Practitioner's view
                              Wei Qu, Sr. RA Manager. Tigermed Consulting
14:50-15:10        Q&A
15:10-15:20        Coffee break
15:20- 15:50       Medical Device registration and clinical trials
                              Yifei Peng, CEO, Tigermed Jietong Consulting
15:50-16:20        Q&A
16:20- 17:00      Apéro and networking
SPEAKERS
Dr. Wei Qu
Doctor of Pharmcy, Sr. RA Manager at Tigermed
In 2013, Wei Qu graduated from Rutgers University in New Jersey, USA and obtained the degree of Pharm.D. From 2013 to 2016, Wei worked at a generic pharmaceutical company "AustarPharma, LLC" in New Jersey as a Sr. RA specialist. In 2016, Wei moved back to Beijing, China and joined Tigermed Co., Ltd. the same year in May. At Tigermed, she is mainly responsible for imported drug registration which covers a wide variety of registration categories: apply and attend communication meetings with CDE, clinical trial applications (IND), marketing approval applications (NDA), post-approval variation submissions and IDL renewal (re-registration). Wei has broad knowledge of Chinese regulations on imported chemical drugs, and is also familiar with related FDA or ICH guidelines.
Mr. PENG Yifei
VP, Head of Medical Device, Tigermed; GM, Tigermed-Jyton, A Tigermed Company
About 20 years hands-on experiences in China pharmaceutical industry with wide working experiences and overall understanding of R&D, regulatory affairs, investment analysis of healthcare products, clinical trial operation management of drug and medical device projects. Abundant knowledge and experience in healthcare product development process in China and CRO business both in pre-clinical and clinical field. Currently in charge of medical device CRO of Tigermed Group. Distinguished Expert of Clincial trial branch of CAMDI.
back