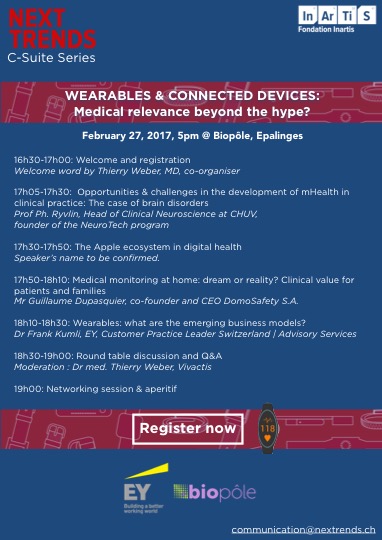 Événements Biopôle
27.02.2017 17:00 | WEARABLES & CONNECTED DEVICES: Medical relevance beyond the hype?
Organizer: Next Trends
Venue: Hôtel Aquatis, Salle Mékong, route de Berne 150, 1010 Lausanne
Contact for registration: https://inartis.wufoo.com/forms/r1u2jww50ie3x8x/
Today we are at a tipping point, where prophecies on wearables ring true, and when such connected devices begin to play a growing role in health care. But beyond heart beats and step counts, what pertinence can these have to users?
During this C-Suite, we will evaluate the situation together with Prof. Ph. Ryvlin from Clinical Neuroscience at CHUV and industry experts from Apple, EY, Domosafety and Vivactis to discuss how these devices can help revolutionise health care for the good sake of the patient.
Program:
16h30-17h00: Welcome and registration
Welcome word by Thierry Weber, MD, co-organiser
17h05-17h30: Opportunities & challenges in the development of mHealth in clinical practice: The case of brain disorders
Prof Ph. Ryvlin, Head of Clinical Neuroscience at CHUV, founder of the NeuroTech program
17h30-17h50: The Apple ecosystem in digital health
Speaker's name to be confirmed.
17h50-18h10: Medical monitoring at home: dream or reality? Clinical value for patients and families
Mr Guillaume Dupasquier, co-founder and CEO DomoSafety S.A.
18h10-18h30: Wearables: what are the emerging business models?
Dr Frank Kumli, EY, Customer Practice Leader Switzerland | Advisory Services
18h30-19h00: Round table discussion and Q&A
Moderation : Dr med. Thierry Weber, Vivactis
19h00: Networking session & aperitif
SOLD OUT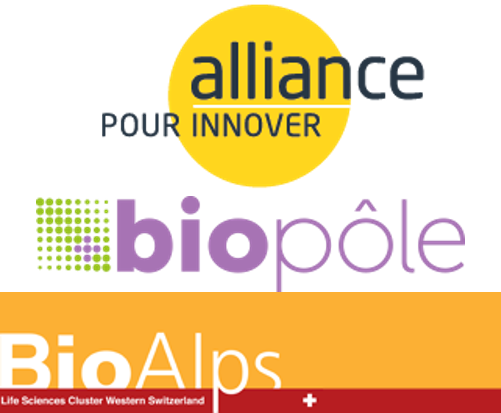 Événements Biopôle
30.03.2017 17:00 | CTI projects in Life Science : make them successful!
Organizer: Alliance & Biopôle
Venue: Biopôle IV, route de la Corniche 3, R-1, 1006 Epalinges
Contact for registration: http://www.alliance-tt.ch/manifestations/36
CTI's mission is to fund innovative projects. What can you expect in Life Sciences in 2017 and how can you make your projects successful ? This conference will be in English.
Presentation
Do you have an idea of an innovative product or service ? Do you need a collaboration with an academic partner to make it happen ? Then the CTI is the funding tool you are looking for.
This conference will provide a focus on the Alliance program and the CTI new funding conditions. You will get information on the important things to take into account in order to make your proposal successful.
You will also benefit from experiences from companies active in Life Sciences and having successfully submitted a CTI application.
Programme
17:20 Welcome


Olivier Philippe

, Head of Business Development, Biopôle SA


Pascale Van Landuyt

, Innovation Mentor, Alliance
17:30 Increase your innovation potential thanks to academia


Pascale Van Landuyt

, Innovation Mentor, Alliance
17:45 New CTI financing rules as from 2017


Robert Van Kommer

, CTI Innovation Mentor, CTI
18:00 Company presentation and testimonials


John Dennis

, CEO, My-Vitality Sàrl


Anthony Aho

, CEO, PB&B SA


Pierre Hutter

, CSO, Sophia Genetics SA
18:45 Q&A session
19:00 Networking aperitif
Contact for registration: http://www.alliance-tt.ch/manifestations/36