Événements Biopôle
28.06.2017 09:00 | Healthtech Summit : moving from technologies to solutions
Organizer: TechTour
Venue: Biopôle / Lausanne
Registration deadline: 28.06.2017

For its 8th edition, the Healthtech Summit will return to Lausanne on 26 – 28 June 2017 and will once again focus on showcasing the top 20 medtech and top 20 digital health companies in Europe. The 40 presenting companies, represented by their CEOs and carefully selected by our Selection Committees, will have the opportunity to network with key international investors who can assist them with their global expansion plans. Furthermore, the program will see a balanced and varied succession of corporate presentations, interactive plenary sessions on opportunities related to accelerating investment as well as dedicated networking sessions, Networking Dinner and Lunch. The 2017 edition of the Healthtech Summit will focus on Medtech & Diagnostics and Digital Health.
For any question please contact olivier.philippe at biopole.ch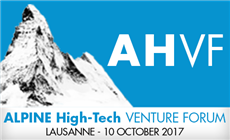 Événements Biopôle
10.10.2017 08:00 | The Alpine High-tech Venture Forum (AHVF)
Organizer: TechTour
Venue: Biopôle - Aquatis Hotel & Conference Center
Contact for registration: http://www.e-unlimited.com/register2/0-register.aspx?events_id=1801
The Alpine High-tech Venture Forum (AHVF) will be an unique event for the most innovative entrepreneurs operating in Switzerland and its surrounding regions focused on Life Sciences, Clean Technology and Information Technology to meet and present themselves to active international investors and corporations seeking for  investment and partnerships.
AHVF is hosted by Canton de Vaud  and will be this year at its sixth edition. It plays an important role in the promotion of the dynamic and innovative professional entrepreneurs within the Alpine area. It also promotes the venture capitalists in the Alpine area and the rest of Europe to support their partnerships and investments.
The best high growth companies
Some 40 early-stage companies active in the high technology sectors will be selected to present at the Forum by the Selection Board, who will assess them on the basis of their business potential, technology merit, competitive position, investment interest and  team experience.
For any question please contact olivier.philippe at biopole.ch